About us
RA-EWG Goal
In order to realize the APAC mission, RA-EWG will share information regarding the challenges faced in each economy and transmit all necessary proposals to the stakeholders.
Furthermore, the pharmaceutical associations of each economy will propose solutions to their respective governments and stakeholders regarding the pharmaceutical-related challenges in each region. All the activities to reach the goal are to be undertaken by the strategic approach including a step-by-step approach.
RA-EWG Leader's Message
Areas of the RA-EWG focus are: 1) Implementing APAC Good Submission Practice (GSubP) as industry initiative. 2) Supporting promotion of Good Review Practice (GRevP) by making practical proposals from industry perspectives. 3) Promoting regulatory convergence of NDA requirements in Asia.
The RA-EWG has been advocating the concept of good registration management, under which execution of both Good Submission Practices (GSubP) and Good Review Practices (GRevP) by the applicants and the reviewers, respectively, will enhance the performance of both submission and review, leading to efficient and quick drug registration/approval.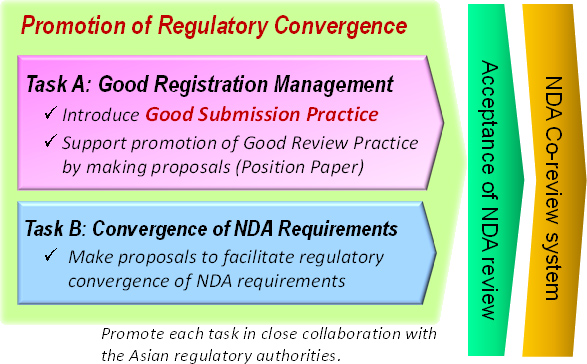 Membership
Members are basically the International Federation of Pharmaceutical Manufacturers Associations (IFPMA) member associations in the following economies:
China

RDPAC


R&D-based Pharmaceutical Association in China
Hong Kong

HKAPI


The Hong Kong Association of the Pharmaceutical Industry 
India

OPPI


Organization of Pharmaceutical Producers of India
Indonesia

IPMG


International Pharmaceutical Manufacturers Group
Japan

JPMA


Japan Pharmaceutical Manufacturers Association
Korea

KPMA


Korea Pharmaceutical Manufacturers Association
Korea

KRPIA


Korean Research-based Pharmaceutical Industry Association
Malaysia

PhAMA


Pharmaceutical Association of Malaysia
Philippines

PHAP


The Pharmaceutical and Healthcare Association of the Philippines
Singapore

SAPI


Singapore Association of Pharmaceutical Industries
Taiwan

IRPMA


International Research-Based Pharmaceutical Manufacturers Association
Thailand

PReMA


The Pharmaceutical Research and Manufacturers Association