Our Work
Regulations and Approvals Expert Working Group (RA-EWG) is an industry association driven expert working group promoting regulatory improvement, with the ultimate goal of expediting the launch of innovative medicine in Asia.
Through close collaboration among 13 member associations, RA-EWG aims at making practical proposals for our stakeholders -regulatory authorities and applicants in each economy - on shared regulatory issues in Asia.
The road to 10th APAC (RA-EWG Establishment in 2012, Concept Paper 2013)
In the past decade (Through 1st to 10th APAC), RA-EWG has made much progress and advancement for TaskA : Good Registration Management and TaskB : Regulatory convergence based on the concept paper 2013.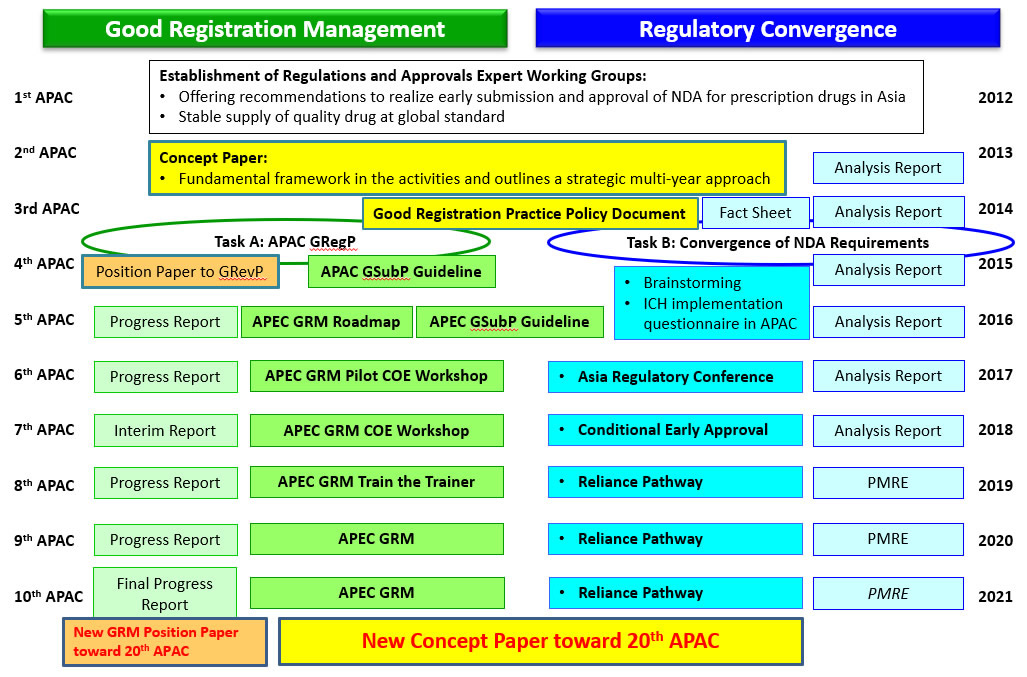 Our Next Decade to 2031
Adapting the alteration of the environment surrounding pharmaceutical industry, RA-EWG published the new APAC RA-EWG Concept Paper 2022 and the new APAC RA-EWG Position Paper 2022 toward 20th APAC to facilitate access to innovative medical products based on new modality for people in Asia.
APAC RA-EWG Concept Paper 2022
<OBJECTIVE>
To recommend that the health authorities to establish a robust regulatory framework to facilitate access to innovative medical products based on new modality for people in Asia.

<SCOPE>
・Regulatory Platform
 ー Regulatory agility
 ー Reliance pathway between/among health authorities
 ー Good Registration Management
・Enhancement of Digitalization/Digital Platform/Real-World Evidence in the Pharmaceutical Area
 ー E-documents
 ー Digitalization/Digital platform
 ー Real-World Data/Real-World Evidence
・Adequately Integrated and Streamlined Regulatory Processes throughout Product Life Cycle
 ー Regulatory & scientific requirements
 ー Regulatory classification and requirements for combination medical products
 ー Regulatory manufacturing framework

<APPROACH>
・APAC annual conference
・APAC letter to authority
・APAC RA-EWG daily activities
 ー GRM position paper
 ー Publication
・APEC GRM COE workshop
<TIMELINE>
2022 ~ 2031
(11th APAC ~ 20th APAC)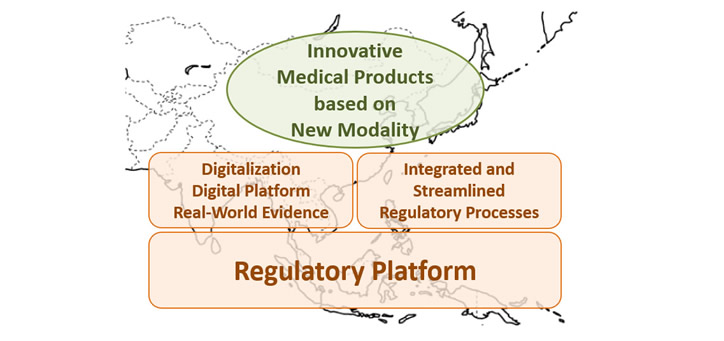 APAC RA-EWG Position Paper 2022
APAC RA-EWG works to promote Good Review Practice (GRevP) by making proposals in the form of Position paper to regulatory authorities from the viewpoint of industry. These position papers are used for facilitating close communication and collaboration between industry and the regulatory authorities to contribute to improving Good Registration Management (GRM) and eventually lead to regulatory convergence and work sharing of drug review in Asia.
APAC Position Paper 2022 covers 6 topics: (1) consultation, (2) transparency, (3) tracking system, (4) collaborative training, (5) digital tools/platform, and (6) reliance, which are selected as important area for refining existing drug registration process throughout the APAC region.
| | |
| --- | --- |
| TOPIC | GOAL |
| Consultation | To establish structured framework to support regulatory consultation |
| Transparency | To facilitate transparency to review policy, standards, draft regulations, guidelines, and new initiative from regulatory authority |
| Tracking System | To facilitate transparency to review process and status |
| Collaborative training | To facilitate collaborative training program and workshop between the regulatory authorities and industry |
| Digital tools/platform | To facilitate utilization of digital tools/platform for drug registration |
| Reliance | To implement effective regulatory reliance throughout the product life cycle |
Member associations & Stakeholders
RA-EWG works closely with Ministries of Health/Regulatory Authorities and member associations to promote regulatory convergence in Asia. (Please refer to "Member associations & Stakeholders links" for the full list)